We Improve Voice Uptime & Quality
We keep you connected !
The test descriptions below have test parameters set to a typical or generic value such as "804-555-1212" or "10 bad samples" All tests are highly configurable.
Call Connection & Line Quality Test
Call every minute to a 1000hz tone recording on your PBX.
Take several samples of the tone.
If 10 "bad samples" are detected, mark call as failed.
If 2 consecutive calls fail, we alert email you with complete test data.
This test detects (depending on configuration)
Down PBX or down trunks.
"Slow answer" such as a PBX that was sleeping.
High packet jitter/loss due to Internet issues or CPU overload.
Ring no answer or busy.
Hammer Test
5 minute audio recording of "Moby Dick" loaded on your PBX. Calls to assigned DID 804-555-1234 play the recoding.
Your staff and ours also call 804-555-1234 and listens to recording.
We send simultaneous calls to 804-555-1234. Starting with 50 calls, then 100, 150, and finally 200 simultaneous call.
We raise or lower call volume to determine breaking point. We run the test again.
We return test data showing audio quality over the 5 minutes and that is correlated with human heard observation.
This test detects (depending on configuration)
Trunk capacities.
Time of day capacity and overflow issues with your carrier.
Bad trunk overflow routes.
PBX CPU overload issues.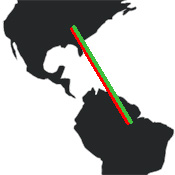 Audio Latency Test
Your customers complain about your off shore call center call audio quality. The specific problem is echo and/or the caller and the agent are talking over each other.
A contributing factor is usually a poor carrier route.
Some additional causes for high VoIP network latency that we can help fix are:
Sub optimal processor speed of your PBX.
Poor quality call center agent headsets
VoIP Internet bandwidth and/or VoIP (voice prioritization) QOS.
Large jitter buffers are set because your offshore Internet is poor
ALL OF THE ABOVE
Caller ID - Fraud/Spam - Branded Caller ID
Bernard Madoff was possibly the most infamous Ponzi scheme criminal. The surviving partners did not like the words [BERNARD MADOFF] showing on customer's Caller ID displays. We helped them test CNAM databases and also promised to not ever say his full name but instead refer to him as simply "BM".
The Caller ID Name that shows on your outbound calls is free marketing. Details are at our other support site. www.fixcallerid.com