We Improve Voice Uptime & Quality
We keep you connected. Our niche is improving the non-human equipment and service performance of your call center. If your call center is failing due to staffing issues, call hold or call abandonment reports, IVR design or HR issues, other firms would be a better choice.
Unique to TEST CALLS in the industry:
We operate our own hosted VoIP data center.
We developed and sell our own hosted VoIP telephone system product. We can discuss Wireshark, TCP/IP and QOS with your engineers.
We are all telecom and IP transport engineers specializing in SD-WAN to improve VoIP audio quality and delivery.
We are a FCC registered telephone company.
Let us explain some of our tests.
Call Connection Test
This is the most basic test to prove system sanity. It is offered as a periodic monitor, system capacity stress test, or as a pre-loaded self test. Capacity tests can break systems and that is the point of a 3 a.m. self test. We will pre-load a test that you trigger at 3 a.m. while we sleep.
Some reasons for this test
You are getting unexplained busy signals.
You need to test added system capacity.
Verify your VoIP carrier or voice system engineer increased SIP trunk capacity.
Call Connections Test 1
This test helps diagnose bad trunks from your carrier to your switch.
Some causes for call connection failure;
Your overflow or DR trunks have an issue.
Your SD-WAN network to your carrier has a bad member.
It's a time of day scenario. Your carrier has bad customer (you) facing equipment that handles traffic under either normal or busy conditions.
Call Connections Test 2
This test helps diagnose bad incoming trunks into your carriers switch. We will source calls from good carriers to force call entry into your carriers switch from other trunks. This provides an A vs. B call path comparison to help diagnose the issue. The old PSTN article is still valid today and explains a possible cause.
Some causes for call connection failure;
Your carrier has a

bad incoming trunk

from the upstream carrier delivering the call. Many carriers inter-connect via both digital "T3" trunks and IP trunks.
Your 800 number routing system needs some adjustment to load balancing or end carrier hand-off.
It's a time of day scenario. Your carrier has bad PSTN facing equipment that handles traffic under either normal or busy conditions.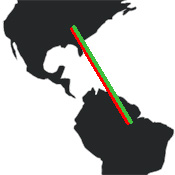 Audio Latency Test
Your customers complain about your off shore call center call audio quality. The specific problem is echo and/or the caller and the agent are talking over each other.
A contributing factor is usually a poor carrier route.
Some additional causes for high VoIP network latency that we can help fix are:
Sub optimal processor speed of your PBX.
Poor quality call center agent headsets
VoIP Internet bandwidth and/or VoIP (voice prioritization) QOS.
Large jitter buffers are set because your offshore Internet is poor
ALL OF THE ABOVE
IVR Testing and Monitoring
Our IVR monitoring tools use a 1000hz tone on a hidden menu choice of your IVR.
We call your IVR every minute, press a digit, your system then plays a tone that we hear. Thus, we have proven both system uptime and a two-way VoIP audio path.
We can also perform IVR load testing combined with your simultaneous IVR manual test from a cell phone for a great reality check as you simply hear failure as your IVR is loaded. We will of course also return detailed reports. The details of the test are listed here.
Caller ID - Fraud/Spam - Branded Caller ID
Bernard Madoff was possibly the most infamous Ponzi scheme criminal. The surviving partners did not like the words [BERNARD MADOFF] showing on customer's Caller ID displays. We helped them test CNAM databases and also promised to not ever say his full name but instead refer to him as simply "BM".
The Caller ID Name that shows on your outbound calls is free marketing. Details are at our other support site. www.fixcallerid.com
Testcall.com is a service of Infotel Systems. We provide call testing services from our data center in Richmond, Virginia. We are a 30+ year old telecommunications company offering a better value that larger international testing services.
We built our voice testing systems to support our many hosted VoIP customers. We believe uptime is a great feature!
Call us, you will talk shop with one of our experienced telecommunications switching and transport engineers. The owners and developers worked for Verizon building switches, developing the technology for ISDN voice products and designing test services for field technicians. We have media references from Verizon we can share. Please contact us today for a free 15 minutes consult.